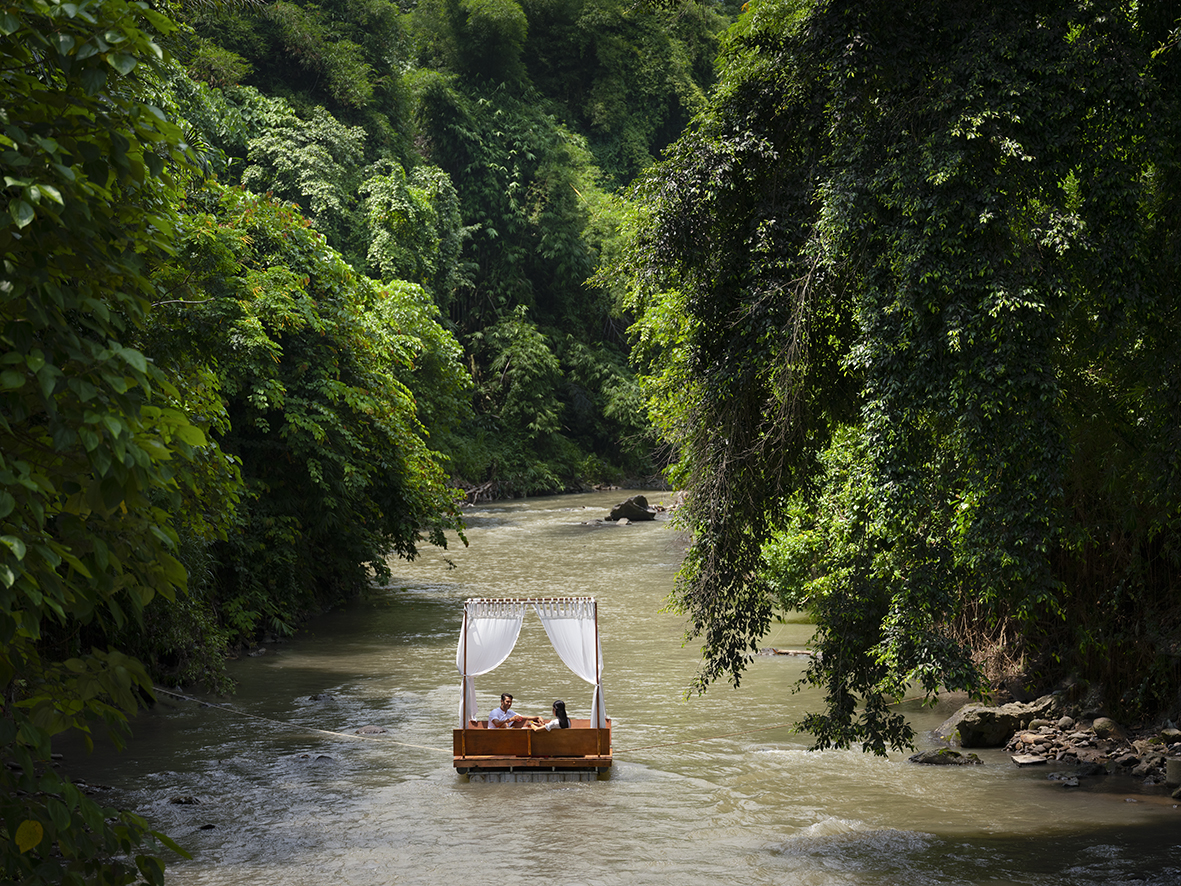 Imagine sitting on a luxury raft, in the middle of soothing ambiance of Wos river, with beautiful backdrop of green forestry while savouring flavorful dishes such as river prawn thermidor, succulent yet juicy steak sandwiches and the delightful pistachio macaron?
Meet Sthala Ubud Bali's "Rafting Brunch", where the guests can enjoy the opulence of Lodtunduh village while having a cordial brunch on the one and only luxury raft, floats comfortably in the middle of Wos river.

Wos, the epochal river believed by the native Balinese as one of the exodus' route led by the spiritual leader from ancient Majapahit Kingdom in Java, Rsi Merkandya, along with his followers to settle down in the Ubud, which became the one of the first ancient civilization in Ubud Bali.

While having the brunch and admiring the beauty of Lodtunduh's nature in the middle of the river, the raft is safely attached to the remoted robust steel-sling rope guarded by the engineering team. Worry not, the gentle river and the maximum safety offered by Sthala Ubud Bali, warrant the brunch experience more comfortable like never before.

The "Rafting Brunch" can accommodate up to two adults, or a family with two children under 10 years old, and will float for maximum two hours. To enjoy this experience, the guests must make a reservation one day in advance to ensure the safety level is fully measured, such as inundation level of the river as well as the weather prediction.
Rafting Brunch Menu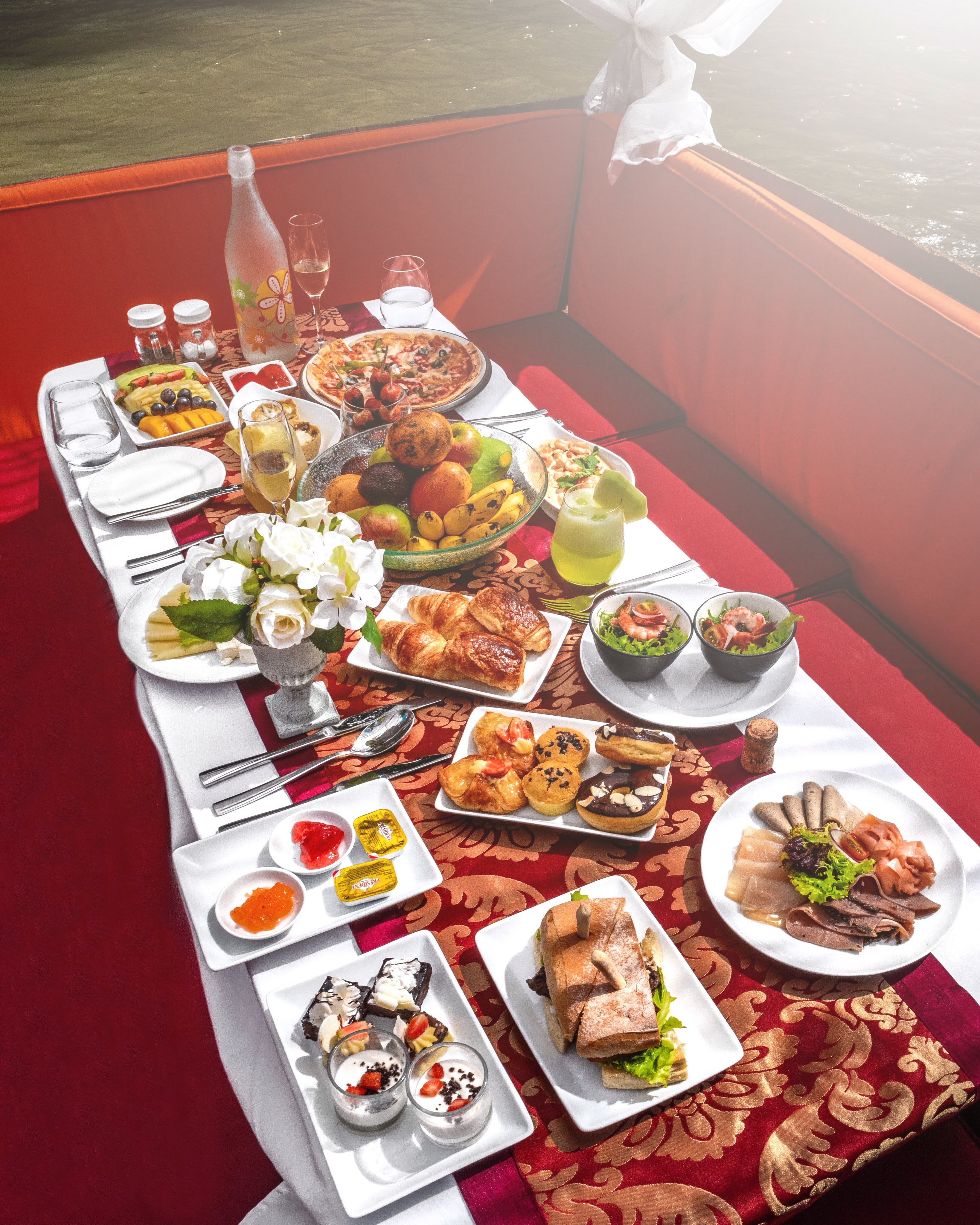 Create your own fresh juice
Whole fruits (according to season)
Fresh seasonal fruits platter (according to season – on individual platters)
Bread and pastries
Appetizer and salads
Mushroom and cheese quiche
Vegetable pizza
Steak sandwich
River prawn thermidor
Dessert:

Pistachio macaron
Strawberry skewer dipped in chocolate
French pastries

Selection of a bottle of local sparkling wine or a jug of
punch cocktail
Info and Reservation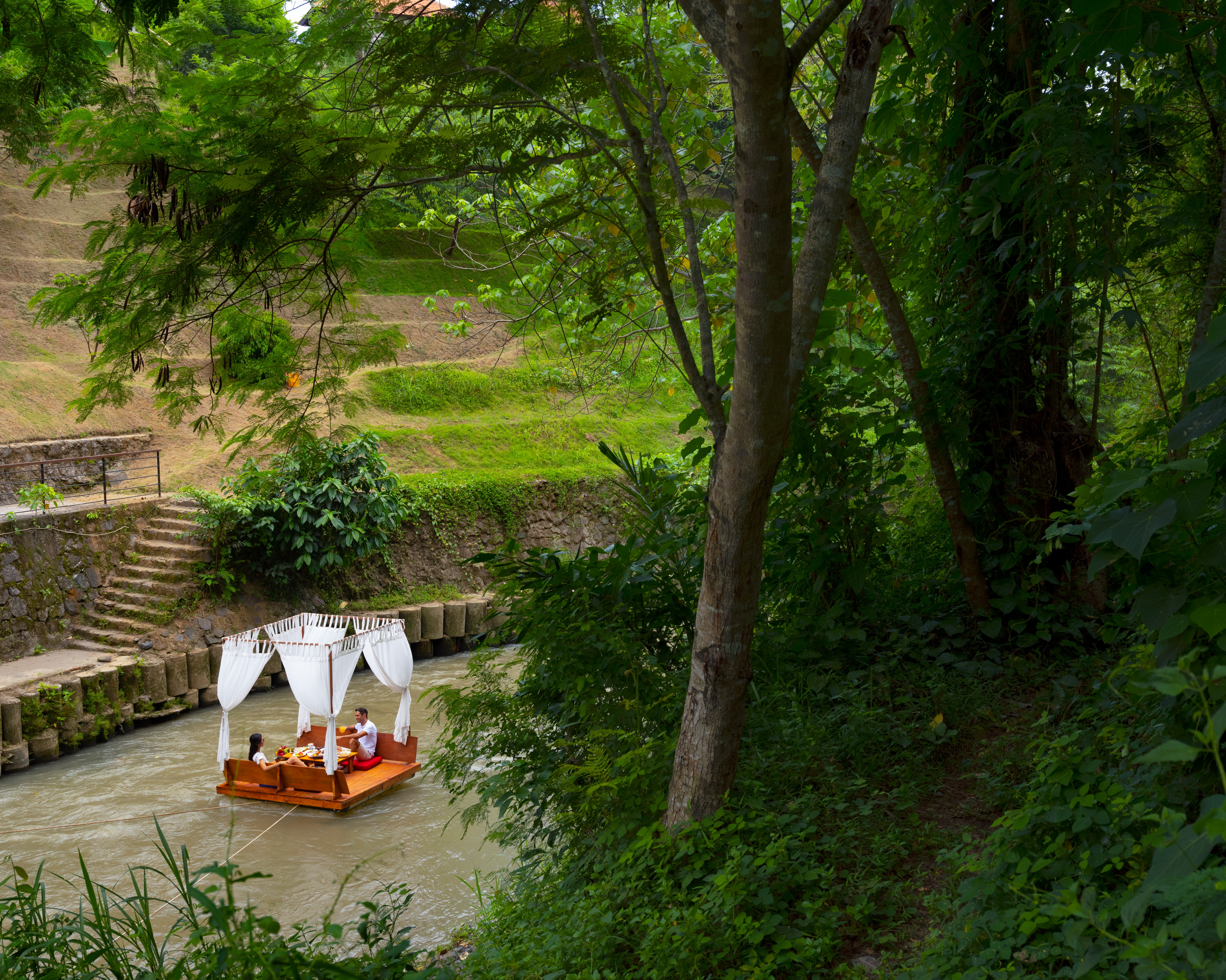 IDR 3,025,000nett per couple for Rafting Brunch.
11.30 am - 1.30 pm daily
TERMS & CONDITIONS:
We can only accommodate 1 (one) slot per day
Booking should be made one day in advance
Regular menu can be subtituted to Indian or vegetarian
menu
For further information and reservations,
Telephone +62 361 3018700,
mobile/WhatsApp +628113805965
email to: resv.sthala@tributeportfolio.com